STIGTRONICS is the maker of true bypass
Custom Guitar Pedals.
We also repair and modify pedals,amps,and other electronics.

Feel free to email us if you have any questions.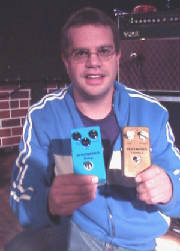 Brendan Bayliss of Umphrey's Mcgee with his STIGTRONICS Delay and Tremolo
Rick Miller of Southern Culture On The Skids in the studio with his STIGTRONICS Compressor.
ALL PEDALS FEATURE
Standard 2.1mm 9V Jack
True Bypass
Quality Construction
2 Year Warranty
LED
Powder Coat Finish
1/4" Switchcraft Jacks
GREAT TONE!
There are also sound bytes for the compressor at the Gretsch Pages Compressor.
Check out some reviews below by clicking on: